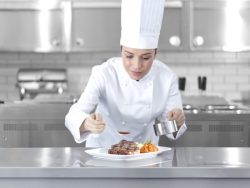 Chef

We are Recruiting
FirstCol is a leading temporary staffing agency supplying Nurses, Care Assistants and Allied Health Professionals to the NHS and Private healthcare services.Firstcol services are currently recruiting for a Chef to deliver quality of food preparation and delivery. We are looking for a candidate who can take on their own initiative with designing a new menu, an individual who is up to date with all regulations, health and safety as well as be able to complete any paperwork required on a daily basis. Immediate starts available with hour pay starts starting between £9-13.00 per hour.
Immediate starts available subject to satisfactory DBS and recruitment checks.
What we offer-
• Free Mandatory Training PLUS additional courses.
• Attractive Rates of Pay – Paid Weekly.
• Flexible hours to meet your needs.
• Holiday Pay and Company Pension Scheme.
• Fast Track Registration.
• Free Uniform.
• Dedicated and experienced Staff to support you throughout your process.
• 24 hour on call support
• Referral bonus scheme (£50)
• Job Type: Full time/ Part Time – 0 Hour contract.
FirstCol currently are recruiting for Chefs within various areas. Please Submit your CV below and our recruitment team will be in touch to further.
Apply Now!
Click the button below to register your interest in this job role.
Apply now!